About NICE CAMERA
This app is for easy operation of avatars using remote tools such as Zoom with a single PC.
No need to wear a head-mounted display or motion capture.
The built-in PC web camera can read facial movements, expressions, and upper body movements to reflect in your avatar.
That is not the only function, but convenient communication features for remote meetings, such as the stamp function, and
an entertainment element with avatars moving around in a 3D background, controlled by a game controller are also included.
In addition, the connect function allows you to move to another person's call screen as an avatar
to enjoy changing the remote call screen into the Metaverse.
Thus, NICE CAMERA is different from other app that merely moves avatars,
but a remote staging app using avatars with an awareness of the Metaverse space.
Please try our free plan first to see how convenient and fun it is!
NICE CAMERA Features

Join online classes and meetings as an avatar!
No need to worry about your room being projected. No stress to participate in meetings. And no need to worry about being forced to show your face.

Usable with a PC with built-in camera and NICE CAMERA only!
Usable by launching one app on a single PC with a built-in camera. No software for capturing (OBS, etc.) is required.

Convenient functions in one to participate in online classes and conferences!
Many functions are available to respond to conversations and direct your own screen.
6 functions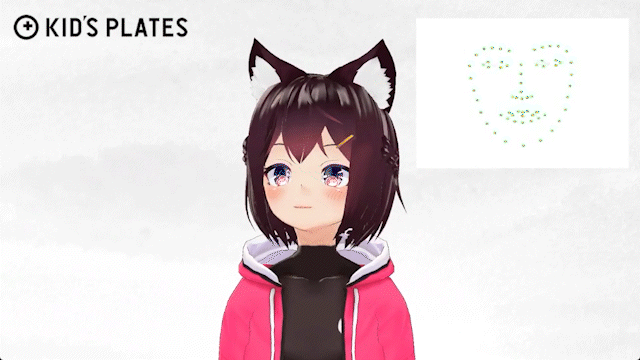 Avatar
Your face is reflected in your avatar. Not only can you switch facial expressions, but you can also use shortcuts for motion.
You can run freely around the screen using the controller.
Various avatars are available in cooperation with external services.
Connect
The function to allows you visit screens of other people using NICE CAMERA.
You can easily create a simple Metaverse where you can visit the room of the person you are talking to on ZOOM.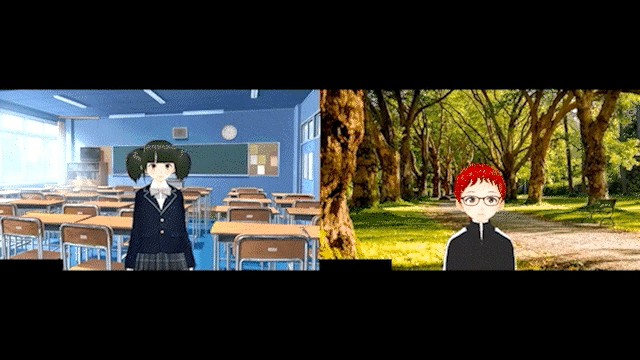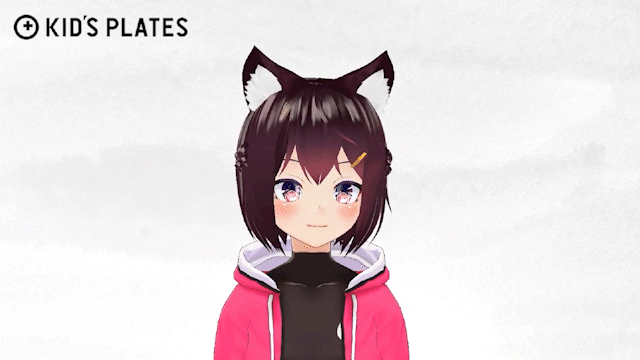 Sticker
Even in situations where the other person is speaking and you cannot speak, stickers can be used to respond back and indicate that you have a question.
You can also add sticker images and create your own usual stickers.
Slide
The slide function makes teaching and presentation materials so easy! Just add images, It's easy to create new slides, just adding images.
Slides and stickers can be selectively used, slides for explaining materials and stickers for simple questioning.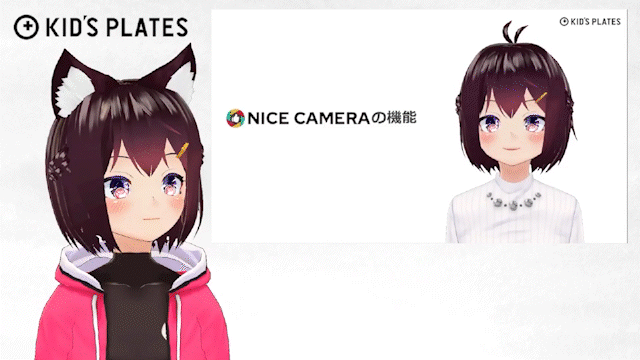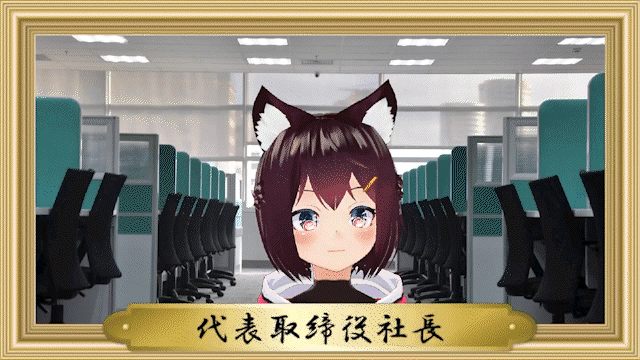 Background・Frame
Layered expressions are also possible with backgrounds and frames.
You can use any image you like such as creating a workroom on the screen as using the background of a room and the frame of a desk.
Creating a space with a sense of depth is also possible with the distant view as a background and framing the near view.
Transcription
You can check your comments during a class or meeting later using the transcription function.
The function can also be used to display subtitles on the screen, making it easier to convey the message and making the screen more friendly to those who have difficulty hearing sound.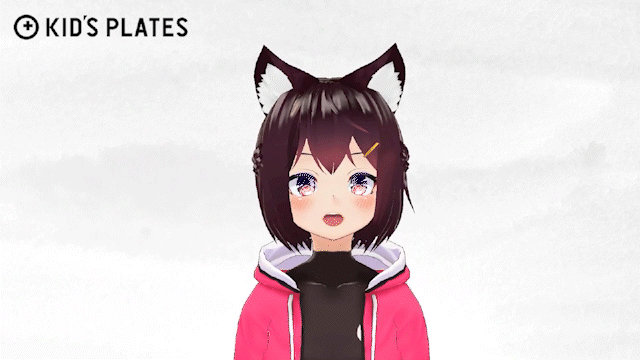 Three scenarios for use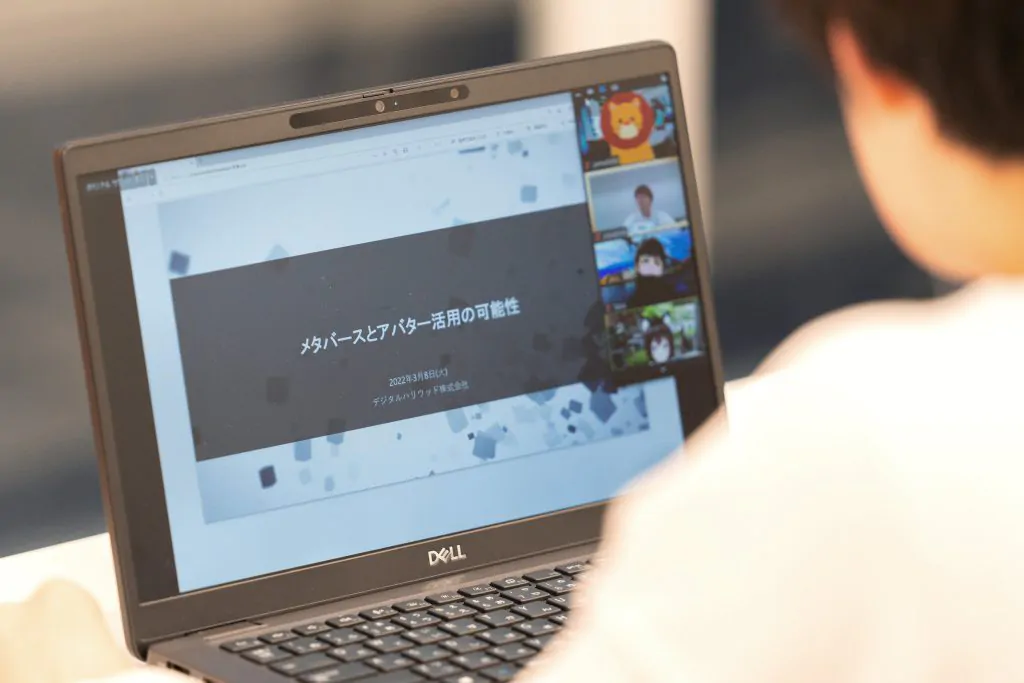 Online classes
No more black screen classes without the camera image! You can see reactions of the speakers in classes and protect your privacy at the same time.
No need to project your real room! You can use it to produce a variety of yourself.
You can use stickers to ask questions, and the slide feature helps your presentations so much!
Online meetings
Usable as ice breaking for online meetings! Even casual meetings can be fun and conversational. Indicating positions and roles clearly with frames and … easy to understand for participants in business meetings !
You can also switch to real camera images to make something like camera images + frames possible.
It can also be combined with a virtual business card background generator to help people remember your name instead of your business card.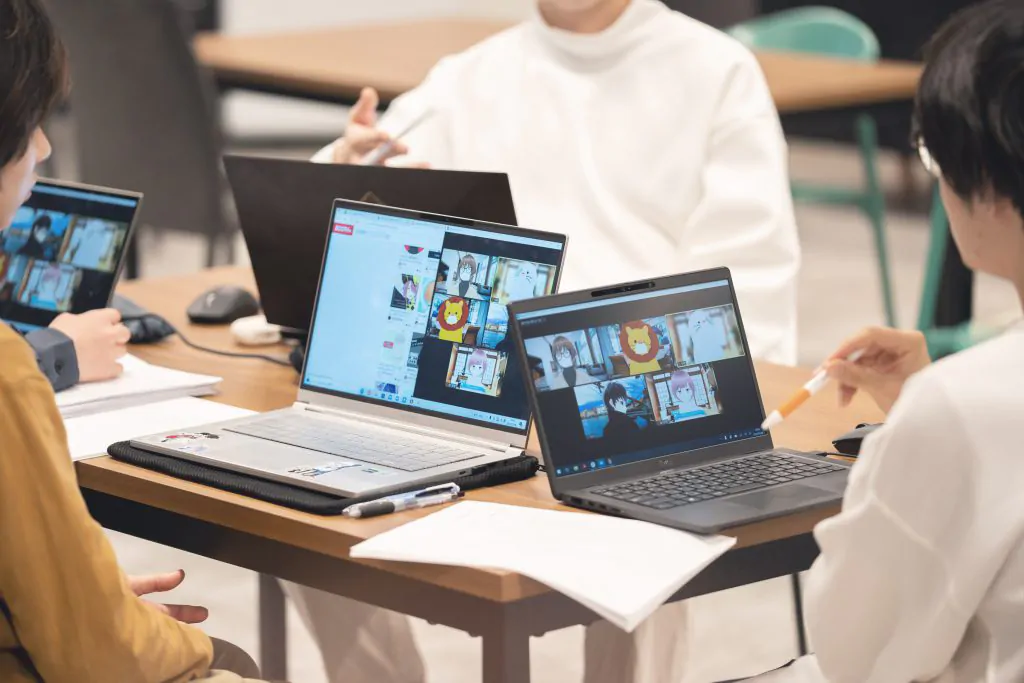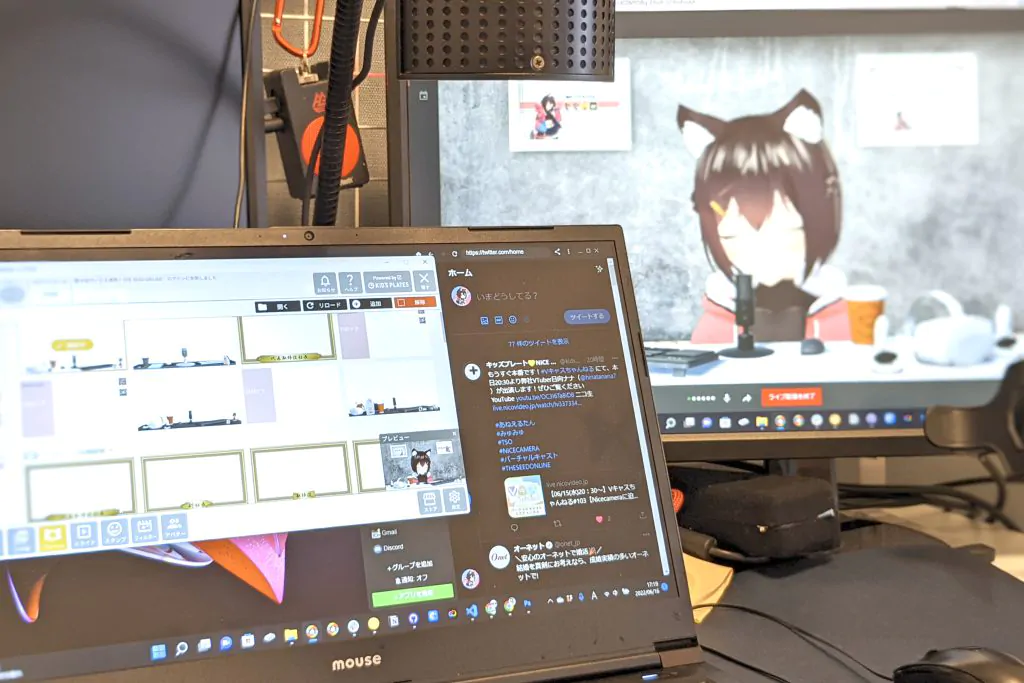 Vtuber distribution and filming
Output as a virtual camera, so you can distribute as a VTuber with a single PC.
In addition, you can freely layout the delivery screen by combining backgrounds and frames.
The connect function makes it easy for VTubers to collaborate with each other!
Services available to use together with
Solutions using NICE CAMERA
Pricing plan
Fees for non-commercial use
Free plan
Premium plan
Free of charge
550 yen/month
Avatar
+
+
Avatars available from the beginning
Nana Hinata
2 types of hedgehogs
4 types of animals
Nana Hinata
4 types of hedgehogs
15 types of animals
External Service Link
・AVATARIUM
・THE SEED ONLINE
・VroidHub
–
+
Add your own avatar (VRM format)
*VRM1.0 not supported
o
*Available one avatar.
+
Unlimited
Avatar game controller operation
+
+
Sticker
+
+
Additional sticker
–
+
Slide
+
+
Video Slide
–
+
Frame
+
+
Background
+
+
Video Background
–
+
Cover image
+
+
Filter
+
+
Available filters
3 types
11 types
Transcription
*Speech-to-Text API contract is required separately.
+
+
Connect
*The function to allows you visit screens of other people.
o
*Available as guest only.
+
Hiding logo watermark
–
+
*Updated 03/29/2022
---
Fees for commercial use
Fee structure for commercial use is set separately.
For more information, please contact us.
Recommended specs
Windows
Mac
CPU
Minimum: Intel Core i3 8100 / Ryzen 5 2400g
Recommended:Intel Core i3 10105 / Ryzen 5 3400g
Minimum:Intel Core i5 1030NG7
Recommended:Intel Core i5 1038NG7 / Apple M1
GPU
Minimum: Intel UHD Graphics 630
Recommended:Intel Iris Xe / RX Vega 11 / GTX750
Minimum:Intel Iris Plus Graphics G7
Recommended:Radeon Pro 455 / Apple M1
Memory
Minimum:4GB
Recommended:8GB
Minimum:4GB
Recommended:8GB
Storage
Minimum:2GB or more
Minimum:2GB or more
Display
Minimum:800×450
Minimum:800×450
OS
Recommended:Windows 10 21H2 (64bit),
   Windows 11 21H2
Recommended:macOS Monterey 12.1 or later
Dependent software
・UnityVideoCapture
・NDI ToolsのNDI Virtual Input
・Rosetta 2(Apple M1 only)
※Windows10,Windows11 operation check has done on the above.
※ macOS Monterey(Intel), macOS Monterey(Apple M1)
macOS Ventura(Apple M1)
operation check has done on the above.